Starting a business might be easy, but knowing how to grow your online business fast can be challenging. There's no doubt that starting an online business is a great way to achieve financial freedom and build something you're passionate about. But once you've started, how do you ensure your business grows?
If you want to see real, sustainable growth for your online business, there are a few key things you need to do. From building the right audience to promoting your business effectively, these tips will show you how to grow your online business fast.
1. Create a marketing plan
Before you do anything else, before you start spending money on ads, or designing your promo materials, you need to create a marketing plan for your business.
A marketing plan helps you to define your goals for business growth, and draw a roadmap for how you'll get there.
For example, your long-term goals might be to increase your monthly revenue to $10,000 or to acquire 100 new customers. Your short-term goals might be to reach out to 10 new potential customers each month or to create a sales page for your product.
In order to grow your business fast, you must know who you're selling to, what their needs are, how you can help them and where you can reach them.
Your marketing plan should outline your strategy for reaching your target audience and converting them into buyers. Your process should be time-bound, laying out your activities and plans for the next quarter or year.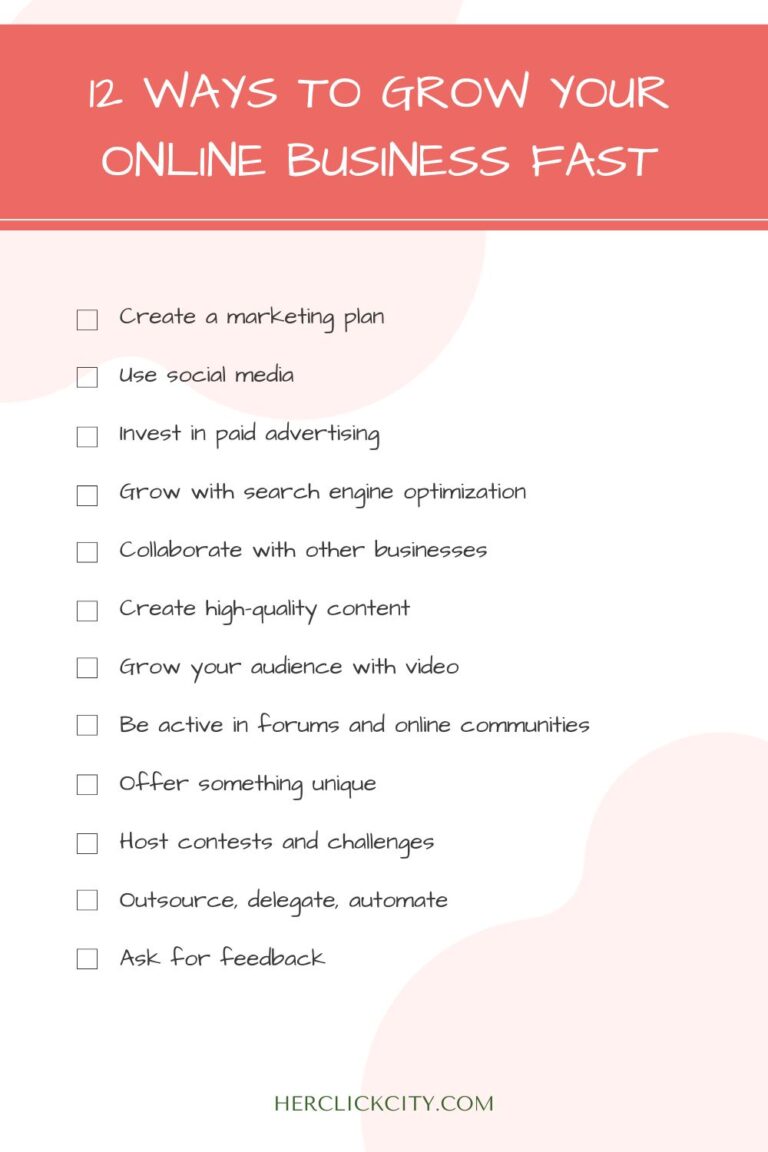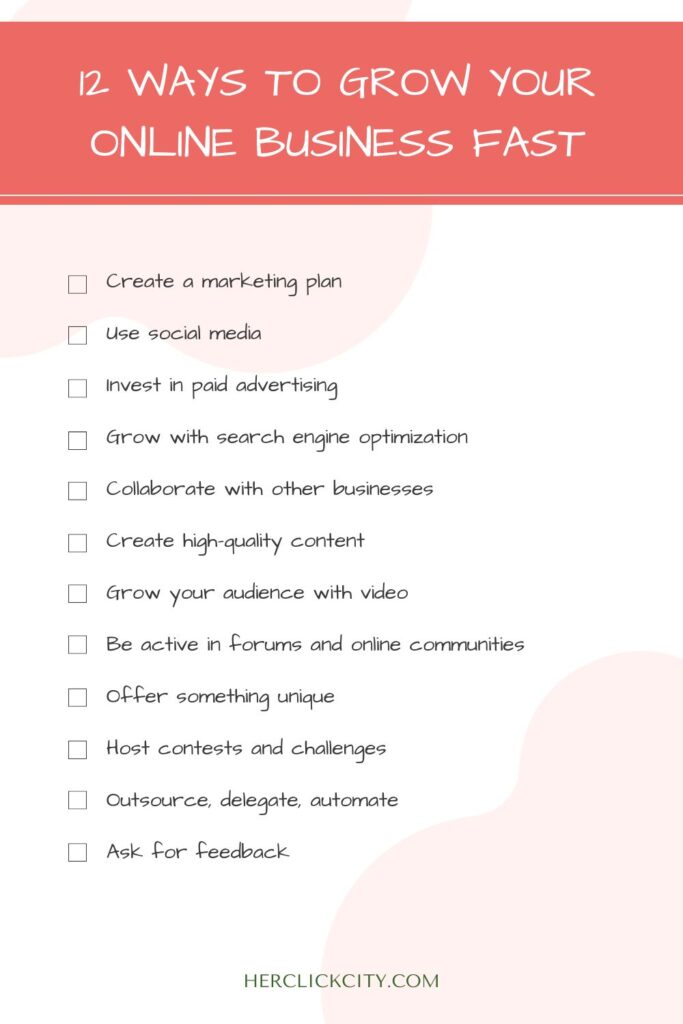 2. Use social media
Facebook has over 2 billion active users. Instagram and TikTok each have over 1 billion active users. These numbers illustrate the sheer magnitude of social media users, making it a great place to start when it comes to growing your business.
Start by creating a business page on the social media platform where your target audience is most likely to hang out. Ensure that your page and posts are cohesive and represent your brand identity.
Post content that is useful and relevant to your audience. Respond to comments and engage with posts from other people.
Track your metrics to know what's working and do more of that.
This will help you grow a loyal following of people who know, like and trust you. They will buy from you and even tell others about you, helping you to grow your business faster.
3. Invest in paid advertising
While organic reach is important, it can take time to build up. You can grow your business faster with paid advertising. This can include advertising on Facebook, Google, or other websites that allow paid advertisements.
Before investing in paid advertising, figure out how much you're willing to spend and when you want your ads to run. You can also check out what ads your competitors are running to see what types of ads work best.
There are different types of paid ads you can try. Boosted posts, banner ads, sponsored posts and more. Make sure you target the right audience and use effective ad copy.
4. Grow with search engine optimization
Search engine optimization, or SEO for short, is a tried-and-true way to grow your business. Simply put, it's the process of making your website more appealing to search engine algorithms.
If your website is well-optimized for search engines, it'll show up higher in search engine results, which means that more people will see your website. You'll get more website traffic, more leads and more sales!
When you do SEO right, you make it easier for people to find you online. You can do this by creating high-quality content, carefully choosing your keywords, and ensuring that your website has a good structure.
Improving your website's SEO can help you grow your business faster by bringing in more organic traffic.
Read: What is SEO? Why SEO is important for your business
5. Collaborate with other businesses
Sometimes, the best way to grow your business is to team up with another business. Collaborating with other businesses in your niche is a great way to reach a new audience and grow your business faster.
You can do this by guest blogging, hosting webinars together, or even creating joint products, services or bundles.
With a joint venture, you work other businesses to promote each other's products or services. This can help you expand your reach and increase your customer base while also letting you try out a new product or service.
One way to do this is to find a company with products or services that complement yours, then create a bundle or package deal with them. For instance, if you own a health foods store, you could partner with a local gym to offer discounts to their members. This gives the gym an extra benefit to offer its members, and they direct new customers to you. Win-win!
6. Create high-quality content
Content marketing is an important part of your business growth strategy. You need to create helpful and interesting content for your target audience.
Creating good-quality content helps you to establish yourself as an authority in your niche, and it keeps your audience coming back for more.
Great content should be:
readable and engaging
helpful and relevant to your target audience
original and consistent with your brand
contribute towards your business goals in some way (attracting customers, establishing trust, convincing them to buy, etc)
Videos, blog posts, podcasts, e-books, webinars, and infographics are just a few examples of the types of content you can create.
7. Grow your audience with video
Video is arguably one of the most effective ways to attract new customers and build your audience. And with platforms like YouTube, Facebook and TikTok offering incredibly high rates of engagement, it's also one of the most cost-effective ways to do so.
If you want to reach more customers, you need to be on video. But it's not enough to just post a few videos and wait for the money to roll in. You need to create great content and promote it to your target market.
You can start by creating a welcome video that introduces your brand to your audience. You can also create fun and informative how-to videos to solve common issues and offer helpful advice. You can even conduct interviews with industry experts or create videos that discuss trending topics in your industry.
You can also create short videos for Reels or TikTok and benefit from the viral reach of these platforms!
8. Be active in forums and online communities
Engaging with your target audience is a smart way to build relationships, drive traffic, and increase sales.
One effective way to do this is by joining and participating in online communities and forums relevant to your industry.
Forums provide real opportunities to get to know your customers and build relationships with others in your industry.
You also build trust as a business owner, and find opportunities to collaborate with others.
You can find online forums and communities on different platforms such as Quora, Reddit, Facebook groups and more. Just search for your niche with the keyword "group" or "forum", eg. "Marketing forums", "groups for Amazon sellers", etc.
If you don't have the time to join and actively engage in forums, you can consider joining an influencer network. These networks allow you to connect with other influencers in your industry and exchange social media promotion.
9. Offer something unique
One sure way to grow your business fast is to offer something that your target audience can't easily find elsewhere. This is known as your unique selling propsition.
Your USP could be:
Your target audience
Your services
Your product
Your marketing style
Your pricing
Your perks and bonuses
If the products or services you offer are too simple or similar to competing companies, you'll struggle to differentiate yourself from the competition.
But if you can find something that gives you a clear competitive advantage, you'll draw more people to your business, and they will keep coming back.
Read: Create a solid unique selling proposition for your business
10. Host contests and challenges
You can grow your business fast by hosting contests or challenges. Give your audience a series of simple tasks to do to increase their chances of winning a prize. Your prize should be valuable and tangible, especially for people who don't know you or your brand.
Because the aim of the giveaway is to grow your business, ensure that the tasks are things that contribute to your growth. For example, you could ask them to:
Tag or refer their friends
Share your posts
Comment on your posts
Follow your accounts on other platforms
Do a review or make a post about your product
Join your mailing list
If done right, your online contest can lead to growth across multiple platforms, and you'll be able to engage with customers in new and interesting ways.
11. Outsource, delegate, automate
As an online business owner, you wear many hats- content creator, social media manager, product manager, graphic designer… It can be overwhelming. Doing everything yourself is not how to grow your online business. You get so bogged down with the little tasks that you're unable to strategize for rapid growth.
That's why it's important to outsource, delegate or automate.
You can outsource certain tasks to freelancers from Fiverr, Upwork, or other sources.
You can delegate tasks to your team members or your virtual assistant.
And you can automate different tasks with software- for instance, social media scheduling, appointment booking and even content creation.
This frees up your time and energy so that you can focus on more important things, such as growing your business.
12. Ask for feedback
If you want to build a successful business, you have to ask for customer feedback. Encourage your current customers to tell you what they think about your products and services.
This can give you unique insights and help you adjust your offerings and even your marketing strategies. It's also important to track your metrics, so that you can measure your business performance and know what needs improving and where to focus your efforts.
Taking action, getting feedback, and improving is how to grow your online business.
How to grow your online business fast: summary
Now you know how to grow your online business fast:
Create a marketing plan
Use social media
Invest in paid advertising
Grow with search engine optimization
Collaborate with other businesses
Create high-quality content
Grow your audience with video
Be active in forums and online communities
Offer something unique
Host contests and challenges
Outsource, delegate, automate
Ask for feedback
But remember, growing any business takes time, dedication, and hard work.
It can be especially challenging when you're in the early stages of building your brand. But if you follow these tips, you can make sure your business grows as quickly as possible.
From creating great content to offering something unique, there are many ways to attract new customers and drive them back to your site. Once you've attracted them, the next step is to turn them into lifelong customers.